Regular price
Rs. 1,499.00
Regular price
Rs. 2,000.00
Sale price
Rs. 1,499.00
Unit price
per
Sale
Sold out
Turn your special moment into artworks, Paint the memories of your favorite moments in life with our custom paint by numbers. Imagine painting a family portrait, a beloved friend, your favorite superhero/player or even your pet!
Whats Inside?

• 1x Numbered acrylic-based paint set
• 1x Pre-printed numbered high-quality canvas
• 1x Set of 3 paint brushes (1x small, 1x medium, 1x large)
• 1x Set of easy-to-follow instructions to paint
• 1x Reference sheet
• Wooden Frame (if selected)
How to Order?

• Upload a high-resolution photo by clicking on "Upload your image" above.

• Select your preferred size and color quantity.

• Validate your cart and proceed to payment.

• Sit back and relax, we will deliver your paint by numbers kit
Materials

• High Quality Artistic Canvas - Best for permanent painting

• Best qulity artistic paint.

• Country of Origin: India
How to Paint?

1. Open your paint by numbers kit.

2. Arrange your canvas, paints and paintbrushes.

3. Fill a small cup with water and get ready to paint!

4. Paint each numbered area with the corresponding paint.

5. Once your artwork is complete, hang it on your wall and decorate your home.
Shipping & Returns

• We offer Free shipping all across India.

• Orders will be shipped within 24-48 hours.

• Your orders will be delivered within 10 - 15 days.

• Once the order is placed it cannot be cancelled or Refunded.

• If there is any problem with order received, it will be replaced as per our return and replacement policy.
Share
View full details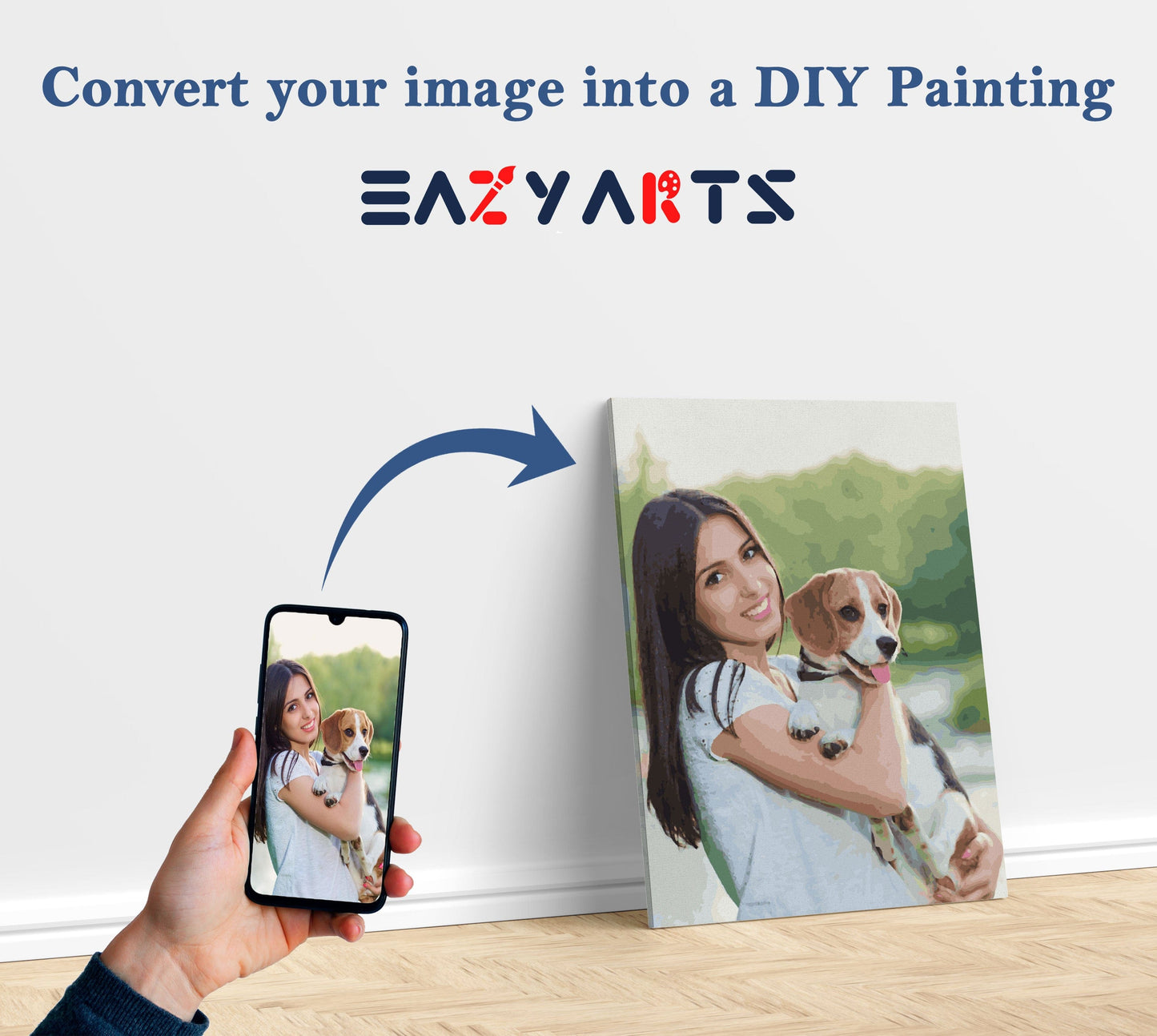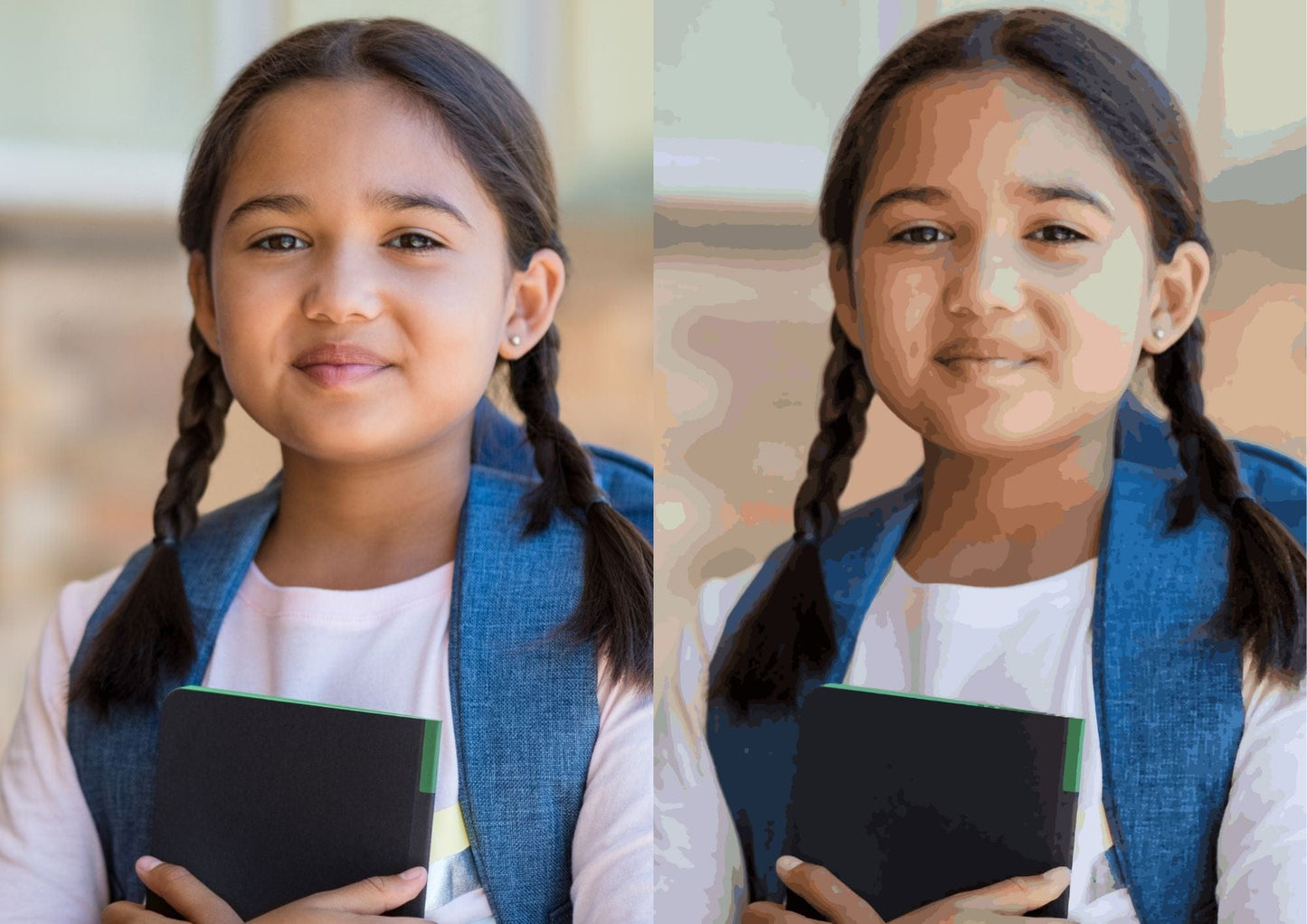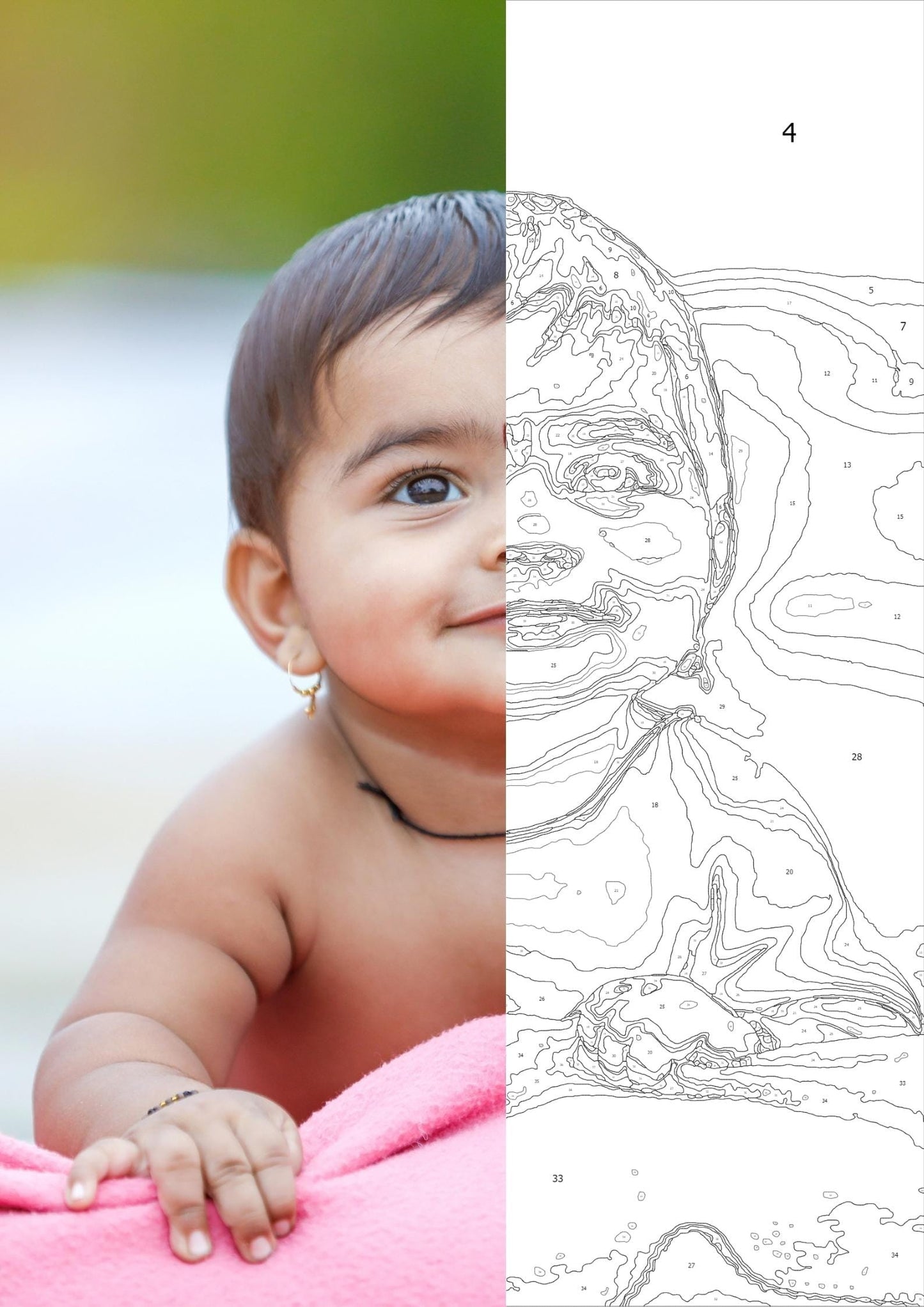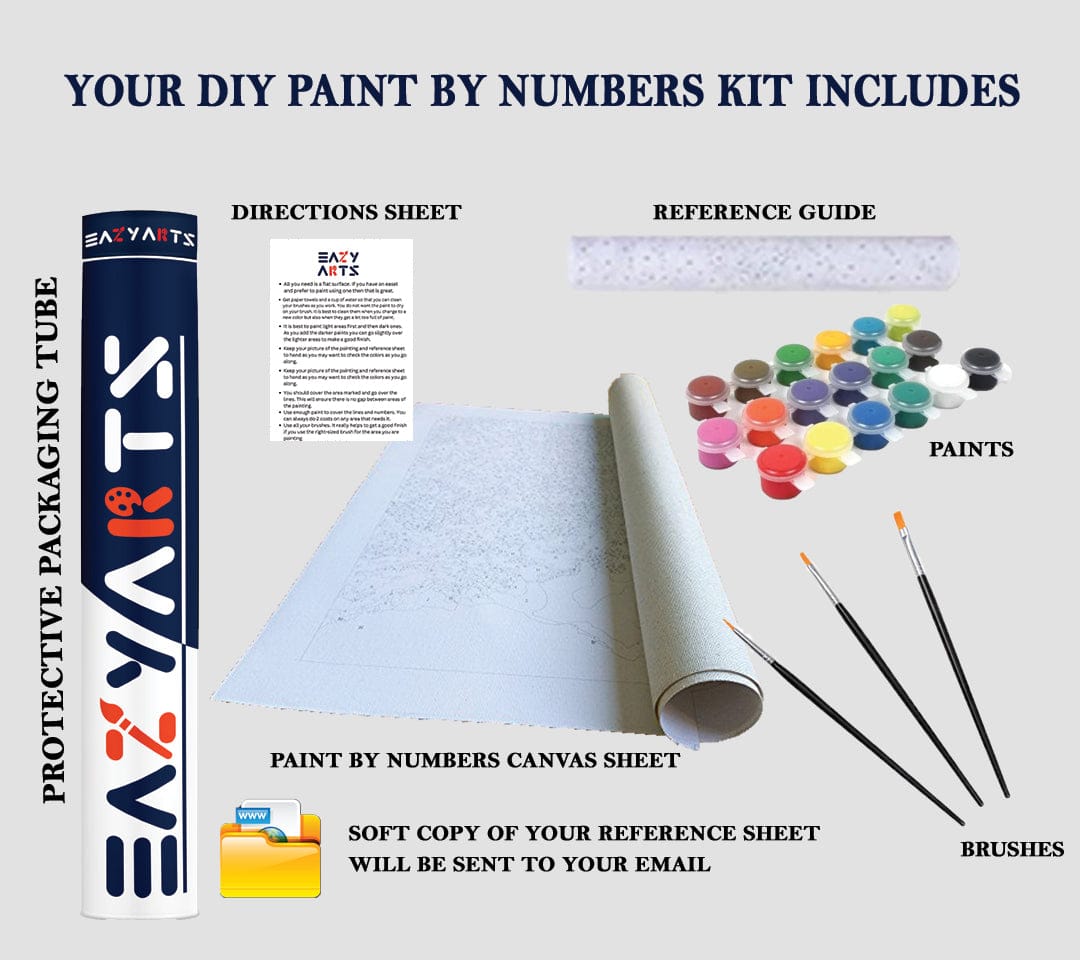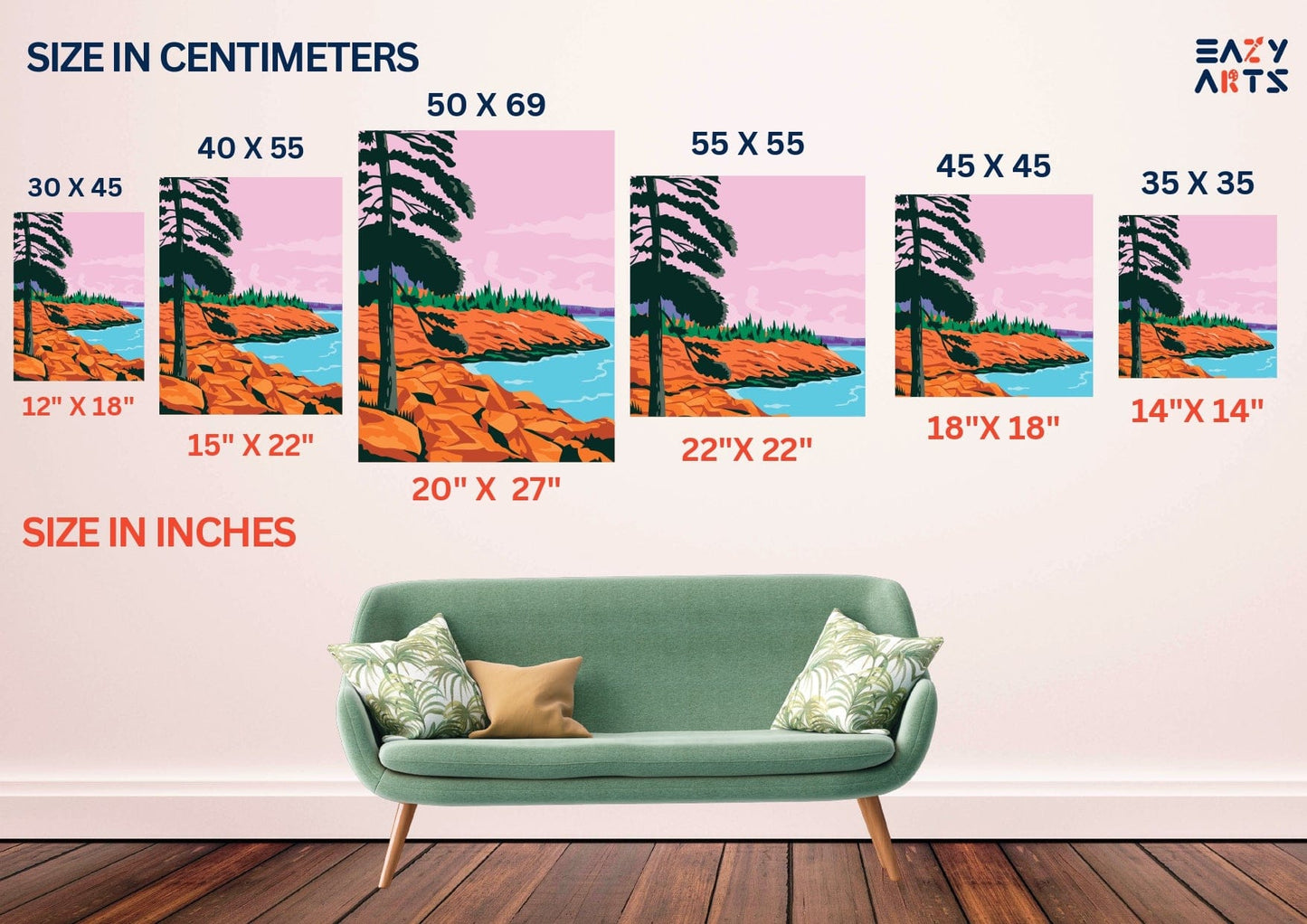 How to select the right photo?
Use High Resolution & Clear Image

• The final painting will depend on the picture you send so choose it carefully!

• Do not select an image which is blurred.

• A high resolution and clear images are preffered.

Closeup Pictures are preferred.

• We don't recommend more than 4 people if you want to clearly see their faces.

• Make sure you crop your image as per the size that you are selecting to fit the canvas.

• The simpler the background the better.


Use high contrast and vibrant color image

• High-quality close-ups with good lighting & contrast give the best results.

• The picture should be a minimum of 750px high & wide.

• Avoid blurry pictures, bad lighting, strong shadows & backlightings
How To Pick Color Quantity?
24 Colors PBN Kit

For beginners, the 24 Colors Paint by Numbers kit is recommended. Ideal for close-up portraits of a single person.

36 Colors PBN Kit

If you have some brush experience, the 36 Colors Paint by Numbers kit is ideal. Also recommended for portraits of couples

48 Colors PBN Kit

If you have some painting or PBN experience, the 48 Colors Paint by Numbers kit is best for you. recommended for family portrait pictures.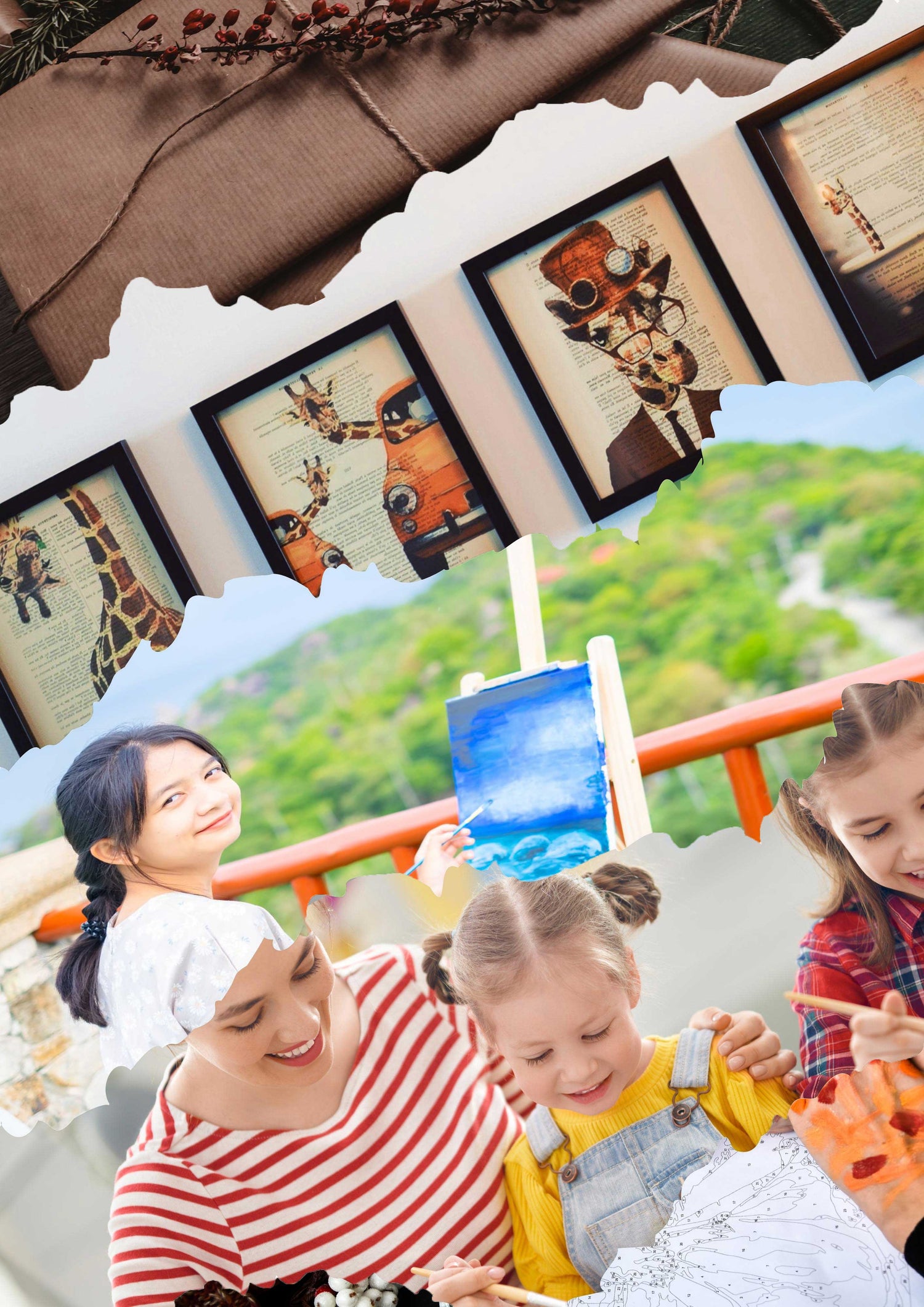 Why Paint By Numbers?
> DIY HOME DECORATION: Paint by Numbers by Eazy Arts is a fantastic product for home/office decoration, You can create your own wall art even with zero artistic ability.

> RELAXING AND JOYFUL: This activity takes off your mind from day to day stress and anxieties. Breakthrough research shows that creative activities like coloring and painting can reduce stress.

> A GREAT GIFT: Paint by Numbers is a great gift for birthdays, mother's day and father's day, etc. Try our personalized paint by numbers kit.

> BEST BONDING ACTIVITY: Spend an evening of fun and relaxation with friends and family. It's a great activity that you can try with your kids.
Custom Paint By Numbers Kit
Hello!!
I received the product in time so I was able to gift her on the day I wanted to!! Thankyou for coordinating with me and keeping my parcel on priority and sending it as soon as possible!
Talking about the gift I was very excited and it turned out way better than I expected!! And my sister loved it as well!! Thankyouu soo much!!!🥰
Custom Paint By Numbers Kit
Unexpectedly good!
Photo - portrait of my husband
Accuracy - 95% from a decent distance (3-5 ft)
My skills of painting - learned in secondary school (5-8th standard)
Materials used outside of what they provide - only water and bowl to hold that water
Tip for anyone using it - first colour the number so it isn't visible, then colour the rest of that area
Experience - it was a roller coaster experience painting that. I ordered a huge size and I was tired just by looking at all the super small areas that need to be shaded. There were a lot of moments when I wasn't able to figure why there are so many many colours or its need or purpose.
But I kept asking to myself to have faith in it. It worked. The painting looks absolutely fabulous. The little lines that you can see close by, they aren't visible from a couple of feet away and then everything makes sense. All those tiny spots and lines of a variety of colours make sense and look fabulous.
(I initially thought I would give it 4 because they gave me peach for the sky and the lines were also visible, but I went back and checked the og pic and turns out it was sunset and also the lines aren't visible from far)
Have added original pic and my painting